The non-profit organization credited with saving more than 3,500 lives is honored for its use of Unmanned Aerial Systems in the search for missing persons
(Port Saint Lucie, Florida – May 2, 2019) Project Lifesaver International (PLI) has been awarded the Humanitarian XCELLENCE Award by the Association for Unmanned Vehicles Systems International (AUVSI), the world's largest non-profit organization dedicated to the advancement of unmanned systems and robotics. PLI was selected from a pool of accomplished applicants as one of five winners for the Humanitarian Award for its work with the PLI Indago UAV. The Humanitarian Award has been sponsored by DJI for the second consecutive year. Winners were announced during the keynote session on Thursday, May 2 at AUVSI XPONENTIAL at McCormick Place in Chicago.
"The Humanitarian Awards demonstrate the profound ability of the recipients to positively impact lives through unmanned systems technology," said Brian Wynne, president and CEO of AUVSI. "We proudly recognize the five winners and hope their accomplishments will serve as an inspiration to utilize unmanned aircraft systems to accomplish remarkable achievements for our society."
PLI is the premier search and rescue program operated internationally by public safety agencies and is strategically designed for at-risk individuals who are prone to the life-threatening behavior of wandering, including those with, autism, Alzheimer', and similar cognitive conditions. Termed the "Gold Standard in Excellence" throughout the special needs SAR community, Project Lifesaver was the first organization to significantly address the elopement issue among these vulnerable populations, and since 1999, has been the only non-profit organization actively educating and equipping public safety agencies in the protection, search, and safe & timely recovery of special needs wanderers.
The method relies on proven radio technology and specially trained search and rescue teams. Citizens enrolled in Project Lifesaver wear a small transmitter on the wrist or ankle that emits an individualized frequency signal. In the event that an enrolled client goes missing, certified Project Lifesaver Emergency Search Specialists can utilize specialized receivers to locate the client by triangulating the position of their frequency signal. While airborne operations have been included in Project Lifesaver's practices since the beginning, PLI integrated a UAV into its operations to offer a more viable and cost-effective solution to the use of helicopters in 2017.
The PLI Indago UAV is a military grade, quad-rotor UAV designed specifically for the search and rescue of special needs populations with cognitive disorders who are prone to the life-threatening behavior of wandering. Developed in conjunction with Lockheed Martin and Loen Engineering, the PLI Indago UAV has integrated a light-weight digital antenna payload onto a Lockheed Martin Indago UAV, which has been modified to work with Project Lifesaver electronic search equipment. It is the only UAV on the market with tracking capabilities to assist in locating missing persons, and it has proven successful on numerous occasions.
In early June 2018, the Palm Beach County Sheriff's Office utilized the PLI Indago UAV to locate a 79-year-old female client diagnosed with dementia who had wandered away from her caregiver in Greenacres, Florida. The deputies involved with the search credit the PLI Indago in big part to the success of this recovery and the client's safe return home.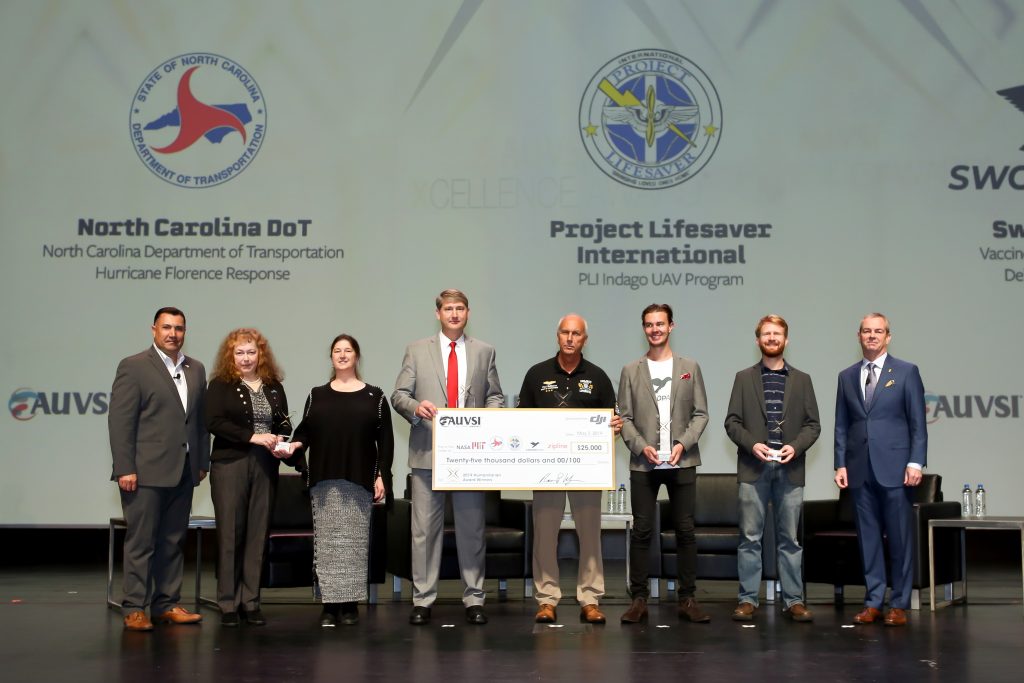 It has been reported that the PLI Indago has also been responsible for the successful recovery of numerous other individuals during non-Project Lifesaver search efforts. On at least three occasions, public safety agencies have utilized infrared payloads on the PLI Indago UAV to assist in the search of other missing people within their communities. In all incidences, most involving a missing hunter, the subject was found successfully within only minutes. Authorities believe that without the assistance of the PLI Indago, the subject likely would not have been found in time before succumbing to their injuries and the severe weather.
"We've seen an expanding implementation of drone technology in the past year, from locating humans lost under cluttered forest canopies, to dropping critical medications in Africa, Oceania and Latin America, to enabling students to program UAVs and fly autonomous missions." said Mario Rebello, Country Manager for North America and Vice President of the Americas at DJI. "These innovators are a true proof of drone innovation driven not just by the technology itself, but by its users. We are thrilled to see the width and depth of UAV's embracement keep expanding across more industries, and we hope the award will inspire more drone operators around the world to accomplish great feats in their own communities."
The AUVSI XCELLENCE Awards honor innovators in the unmanned systems industry, including individuals and organizations, with a demonstrated commitment to advancing technology, leading and promoting safe operations, and developing programs that use unmanned systems to improve the human condition.
"I am humbled to achieve such an astounding commendation," exclaimed Chief Gene Saunders, Founder & CEO of PLI. "There were so many remarkable organizations and initiatives named as finalists in this same category, and it is truly an honor to be named a winner among these prestigious names in the industry."
For more information about Project Lifesaver, please visit www.projectlifesaver.org or contact:
Kyrianna Hoffses
Public Relations and Media Coordinator
Project Lifesaver International
khoffses@projectlifeaver.org
772-446-1714
###
About Project Lifesaver International
Project Lifesaver is a 501 (C) (3) community based, public safety, non-profit organization that provides emergency responders and caregivers with the equipment and training required to protect and, when necessary, quickly locate individuals with cognitive conditions that cause the propensity to wander, such as those with Alzheimer's or autism. Through the use of state of the art radio frequency technology, innovative search and rescue techniques, and accredited first response training, Project Lifesaver member agencies have, to date, successfully located in excess of 3,500 special needs individuals during an episode of elopement; the average recovery times for these rescues are less than 30 minutes, which is 95% less time than standard operations.
Started 20 years ago, Project Lifesaver is not just the first, but the most widely used and effective program in the nation that is specifically designed to protect the "at risk" populations in our communities. Project Lifesaver has trained thousands of public safety agencies, not only in search, rescue and the use of our electronic locating equipment, but also in the methods necessary to communicate with a person who has Alzheimer's disease, Autism or a related cognitive disorder. For more information about Project Lifesaver, please visit www.projectlifsaver.org.
About AUVSI
The Association for Unmanned Vehicle Systems International (AUVSI) — the world's largest non-profit organization dedicated to the advancement of unmanned systems and robotics — represents corporations and professionals from more than 60 countries involved in industry, government and academia. AUVSI members work in the defense, civil and commercial markets. For more information, visit AUVSI.org.
About DJI
DJI, the world's leader in civilian drones and aerial imaging technology, was founded and is run by people with a passion for remote-controlled helicopters and experts in flight-control technology and camera stabilization. The company is dedicated to making aerial photography and filmmaking equipment and platforms more accessible, reliable and easier to use for creators and innovators around the world. DJI's global operations currently span across the Americas, Europe and Asia, and its revolutionary products and solutions have been chosen by customers in over 100 countries for applications in emergency response, filmmaking, construction, inspection, agriculture, conservation and other industries.